The Inflation Reduction Act of 2022 ("IRA") is set to boost the development of solar, wind, and big batteries, by at least 20% through 2030, with a target of 364 gigawatts of the capacity of solar energy alone
BNEF projects that by 2030, solar power plants will have three times the capacity of all United States solar plants in operation in 2021, 21% higher than the initial forecast before the IRA was signed in August
Correlate's understanding of the renewable energy market, and the competence of its leadership, position it to take advantage of the ongoing energy transition and the opportunities therein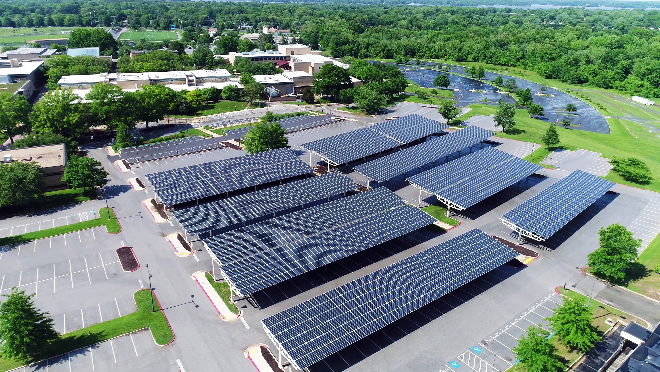 Correlate Infrastructure Partners (OTCQB: CIPI), a portfolio-scale real estate platform, is eying a significant growth potential in market capitalization in the coming years. Todd Michaels, the company's President and Chief Executive Officer ("CEO"), has lauded his team's efforts so far and the progress that the company has made as it works towards being "the first profitable, rapidly-growing publicly-traded clean energy company."
A recent law signed by the President is set to boost the development of solar, wind, and big batteries by at least 20% through 2030. Dubbed the Inflation Reduction Act ("IRA") of 2022, the law looks to lower energy costs, increase cleaner production, and reduce carbon emissions by roughly 40% by 2030 (https://ibn.fm/KFq50). Companies such as Correlate are set to benefit from the Act in terms of tax credits for renewable technologies. They will also facilitate the construction of solar power plants with a target of 364 gigawatts of capacity by 2030 (https://ibn.fm/96dwu).
Correlate's understanding of the renewable energy market, coupled with the competence of its leadership, positions it to take advantage of this ongoing transition and the opportunities therein. In addition, it places Correlate in a strategic position to become one of the biggest beneficiaries of this energy change and a key player in shaping renewable energy adoption and usage in the United States and beyond.
By 2050, installed solar photovoltaic ("PV") capacity globally is projected to grow 20-fold, with the technology representing 38% of all electricity production. It is also projected that by 2050, in addition to the net zero emissions goals, the average Levelized Cost of Energy ("LCOE") for solar PV will fall from the current $50/MWh to around $30/MWh, with individual projects costing well below $20/MWh (https://ibn.fm/lha7L). Correlate is looking to take advantage of this and become an integral player, not just in installing solar power systems but maintaining them over time for the benefit of the consumers.
Bloomberg New Energy Finance ("BNEF") projects that by 2030, solar power plants will have three times the capacity of all United States solar establishments in operation in 2021. This is 21% higher than BNEF's initial forecast before the IRA was signed in August.
Correlate looks to capitalize on this projected growth as it works to achieve both its short-term and long-term objectives while also playing a pivotal role in the energy evolution in the first place. Its management is confident in the company's current trajectory and is optimistic about the company's market capitalization growth.
With an opportunity pipeline of over $100 million in commercial projects and more than $20 million in awarded backlog, Correlate is a testament to the overall shift to renewable energy sources, the viability of solar energy, and its importance in achieving the 2050 net zero emissions target.
For company information, visit the company's website at www.CorrelateInfra.com, including the following:
NOTE TO INVESTORS: The latest news and updates relating to CIPI are available in the company's newsroom at https://ibn.fm/CIPI
About InvestorWire
InvestorWire is the wire service that gives you more. From regional releases to global announcements presented in multiple languages, we offer the wire-grade dissemination products you'll need to ensure that your next press release grabs the attention of your target audience and doesn't let go. While our competitors look to nickel and dime you with hidden fees and restrictive word limits, InvestorWire keeps things transparent.
As part of its service, InvestorWire provides coverage of noteworthy announcements. To further expand visibility of achievements being made throughout a multitude of sectors, InvestorWire's syndication partners have extended the digital coverage to include individual broadcasts on financial websites and platforms visited by millions of investors daily.
For more information, please visit https://www.investorwire.com
Please see full terms of use and disclaimers on the InvestorBrandNetwork website applicable to all content provided by IBN, wherever published or re-published: http://ibn.fm/Disclaimer
InvestorWire (IW)
8033 Sunset Blvd Suite 1037-IW
Los Angeles, CA 90046
310.299.1717 Office
www.investorwire.com
[email protected]
InvestorWire is part of the InvestorBrandNetwork.