Your release will be available on sections such as the Quote Page, Message Board, Data Tools, and the InvestorsHub Mobile App plus exclusive sections like InvestorsHub's homepage and all post news box.
With unlimited word count, pictures, videos, and links your release will also be pushed to InvestorsHub's partners Benzinga, TipRanks, Finscreener, StockInvest, and ValueWalk.
Processing time is dependent on several factors such as length of release content, distribution channels, volume of releases, etc. Submitting a press release with immediate or near future distribution time cannot be guaranteed.
Homepage Visibility – Exclusive Placement
Latest NewsWire submissions are displayed on the InvestorsHub homepage. InvestorsHub's homepage receives the most views on the entire website. The latest seven press releases will be viewed by all the investors, visitors, and daily users. All those eyes will see your company's announcement.
Message Board Prominence
InvestorsHub stock message board is the most popular feature of the site. More users will see your news release here than anywhere else. Over a million page views daily, and each one could have your news showing. You can even communicate directly with more potential investors on InvestorsHub than any other finance site. Engaging an active audience has priceless potential.
All Messages Footer – Exclusive Placement
Latest NewsWire press releases are displayed below each message on InvestorsHub's popular discussion forums. The message board is the main purpose for many daily visits. The latest five press releases will be viewed by the active community. Your headline will be available for all the potential Investors.
---
Advanced Mobile Apps
NewsWire article notifications will appear all over the app. Our NewsWire distribution is so fast that all the mobile app users will have the news available within seconds of being posted. The news will show up on major tools like stock watchlists, quote, and the news section. More users will be connected with your press releases at blazing-fast speeds, no matter where they are.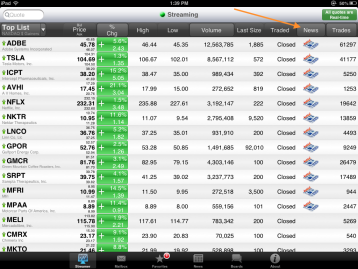 The Most Popular Streaming Quote
InvestorsHub's quote page is one of the best in the industry. It's an amazing page that is always available online. Your NewsWire articles will be prominently displayed in the quote page's news section. Brokers, mutual funds, and ETFs all compete to advertise on the quote. While other finance sites simply tout a chart and quote, this great page is so much more. The streaming quote page keeps users glued to their screens. Your news will get more readers than ever before.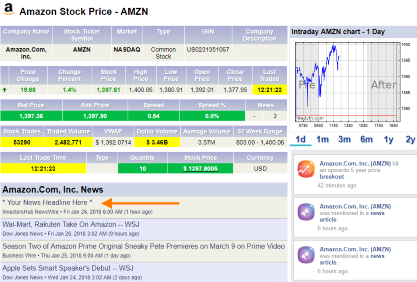 Level 2 Announcements
InvestorsHub's Level 2 is the most popular tool among premium users. Active investors use this premium tool to get detailed information about their stock. Having your news here will make sure the elite traders see your message. If the pros love the news, they will be sure to make sure their followers know about it too. Word of mouth is a very strong way to promote your message.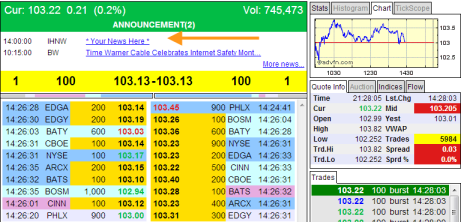 Streamer Watchlist News Notifications
Notifications in the Streamer tool are a great way to show your news. The Streamer is the first daily destination for many investors. They rely on the Streamer to check on favorite stocks. Your news will be displayed here and available to all registered users. The news will also be available in the mobile app streamer page.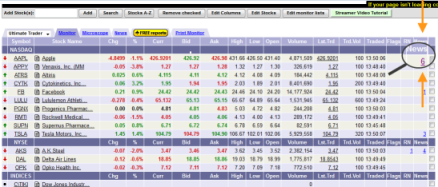 User Favorites
Favorites is where users bookmark interesting stocks. They constantly check this page for news and message updates. Similar to Streamer, Favorites is a central jumping point to many other site features. Getting your news release into this keystone site feature is like being at the start of the river. Users who see the news will spread the word all over the site.