Splash Beverage Group released its annual report for 2020 fiscal year on March 8, 2021
Company revealed it had achieved dramatic quarter-over-quarter revenue, beginning with $112,003 in Q1 sales, ending with $1,242,013 in Q4 with a total of $2,975,939 in sales for EOY 2020
SBEV announced it raised gross proceeds of $4 million through private placement in 1Q21, taking total raised funds to over $9 million
Annual report also contained details on SBEV's recently completed acquisition of premium wine maker Copa di Vino Corporation as well as latest additions to its management team
Splash Beverage Group (OTCQB: SBEV), a holding company for a leading portfolio of beverage brands, released its Annual Report on Form 10-K for the fiscal year ending December 31, 2020 with the Securities and Exchange Commission on March 8, 2021 (https://ibn.fm/Zsqqo). The annual report touched on the company's merger with its wholly owned subsidiary in March of last year, which resulted in Splash Beverage Group Inc. as the surviving entity as well as the company's subsequent ticker change, leading to the common stock being quoted on the OTCQB market under the symbol SBEV. Most notably, the company saw historic quarter-over-quarter revenues, beginning with $112,003 in Q1 sales, $612,308 in Q2, $1,009,615 in Q3 and $1,242,013 in Q4 with a total of $2,975,939 in sales for EOY 2020. SBEV also reported that it had achieved cumulative sales of $2,975,939 in 2020.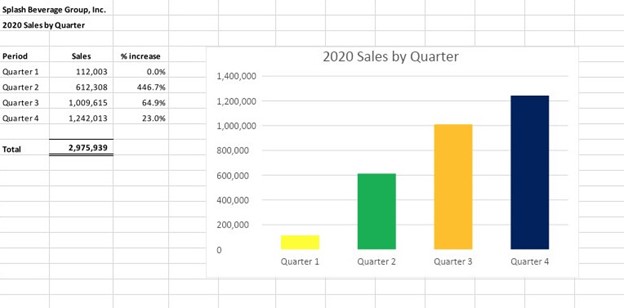 The company also seized the opportunity to update investors on its ongoing financing activities with Splash Beverage Group raising aggregate proceeds of $4 million in the first quarter of 2021 from a private placement. The placement consisted of the sale of 3,637,064 shares of common stock and warrants, with each warrant entitling the holders to purchase two additional shares at a combined purchase price of $1.10 per share. As of February 22, 2021, Splash Beverage Group had raised over $9 million, resulting in the cancellation of the recission rights held by certain investors as part of the terms of their conversion agreements.
Splash Beverage Group additionally announced its completion of an Asset Purchase Agreement with Copa di Vino Corporation – a leading producer of premium wine by the glass based in The Dalles, Oregon – as of December 24, 2020, with the acquisition serving to further the company's alcoholic beverage portfolio. SBEV agreed to purchase certain assets and assume certain liabilities comprising the Copa di Vino business for a total purchase price of $5,980,000.
The purchase served to broaden Splash Beverage Group's product portfolio to a total of four unique beverage brands, including TapouT Performance, a natural isotonic hydration & recovery sports drink; Salt Naturally Favored Tequila; Copa di Vino premium wines packaged in single servings; and Pulpoloco Sangria, a premium crafted sangria imported from Spain.
Splash Beverage Group also highlighted the addition of several prominent figures to its executive management team, including Bill Meissner, who joined the company as chief marketing officer and sales president on May 20, 2020. Meissner came to the company boasting a significant track record within the North American beverage industry, having previously served as president and/or CEO of Fuse, Sparkling Ice, Jones Soda and Sweet Leaf Tea, among others.
SBEV also announced that Peter McDonough has joined Splash Beverage Group as an independent board member. Mr. McDonough, who joined as an independent director on March 31, 2020, had previously served as president and chief marketing and innovation officer for Diageo North America from 2006 to 2015, having worked in a senior capacity at Procter & Gamble prior to that.
For more information, visit the company's website at www.SplashBeverageGroup.com.
NOTE TO INVESTORS: The latest news and updates relating to SBEV are available in the company's newsroom at https://ibn.fm/SBEV
About InvestorWire
InvestorWire is the wire service that gives you more. From regional releases to global announcements presented in multiple languages, we offer the wire-grade dissemination products you'll need to ensure that your next press release grabs the attention of your target audience and doesn't let go. While our competitors look to nickel and dime you with hidden fees and restrictive word limits, InvestorWire keeps things transparent. We offer UNLIMITED Words on all domestic releases. While other wire services may provide a basic review of your release, InvestorWire helps you put your best foot forward with complimentary Press Release Enhancement.
With our competitors, the work is done the second your release crosses the wire. Not with InvestorWire. We include follow-up coverage of every release by leveraging the ever-expanding audiences of the 50+ brands that make up the InvestorBrandNetwork.
Get more out of your next press release with InvestorWire. It's unlike anything you've seen before.
For more information, please visit https://www.investorwire.com
Please see full terms of use and disclaimers on the InvestorBrandNetwork website applicable to all content provided by IBN, wherever published or re-published: http://ibn.fm/Disclaimer
InvestorWire (IW)
8033 Sunset Blvd Suite 1037-IW
Los Angeles, CA 90046
310.299.1717 Office
www.investorwire.com
[email protected]
InvestorWire is part of the InvestorBrandNetwork.