The U.S. has demonstrated its commitment to build more and better clean energy systems across the United States, including a new emphasis on expanding solar energy production on public lands in the Western states
The Bureau of Land Management is currently processing utility-scale clean energy projects proposed on public lands that have the combined potential to add over 31,000 megawatts of renewable energy to the Western electric grid
Distributed energy solutions company Correlate Infrastructure Partners Inc. works with clients in the commercial real estate industry to identify potential utilities optimization and other renewable energy opportunities
A key part of Correlate's operation is to help clients also draw on the best financing sources that may include government grants and credits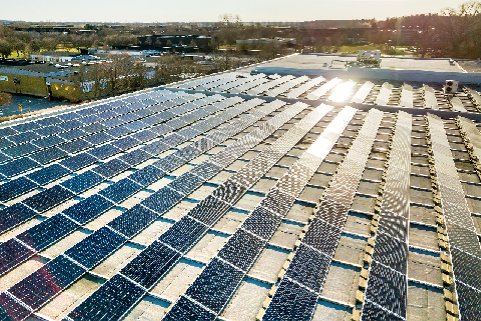 The federal government's recent announcement that it will expand the development of solar energy production in a number of Western states, where much of the land is government-owned public property, demonstrates the determination to support sustainable energy efforts and combat global climate concerns.
"This Administration is committed to expanding clean energy development to address climate change, enhance America's energy security and provide for good-paying union jobs," Secretary of the Interior Deb Haaland said during a visit to the Sonoran Solar Energy Project west of the Phoenix, Ariz., metropolitan area (https://ibn.fm/tve2I).
"Our review of these proposed projects in Arizona, and a new analysis of the role public lands can play in furthering solar energy production, will help ensure we keep the momentum going to build a clean energy future, lower costs for families and create robust conservation outcomes on the nation's lands and waters," Haaland added.
The Sonoran project is expected to provide power to 91,000 homes from the public lands-sited array. The Bureau of Land Management is currently processing utility-scale onshore clean energy projects proposed on public lands that have the combined potential to add over 31,000 megawatts of renewable energy to the western electric grid, with additional solar and wind development applications under review, according to the Interior Department's announcement (https://ibn.fm/uG9ur).
Distributed energy solutions company Correlate Infrastructure Partners (OTCQB: CIPI) foresees exciting new opportunities available thanks to the government's emphasis on driving the country toward a future free of its dependence on carbon fuels and otherwise inefficient utilities, including tax credits made available through the Inflation Reduction Act.
The company recently reported establishment of a contract that exemplifies industry efforts to find innovative utilities solutions for clean energy, anticipating a 3.8-megawatt project at the Pennsylvania headquarters of global stored energy solutions leader EnerSys that would be one of the largest behind-the-meter solar installations in the United States.
"This partnership and project bring together a decade of our team's vision, whereby we are both supporting a corporate renewables program and helping decarbonize the supply chain with a global market leader," Correlate Infrastructure CEO Todd Michaels stated in the company's announcement (https://ibn.fm/Z4P6t).
Correlate is focused on helping companies that develop and rent out commercial building properties succeed at acquiring solar, cogeneration, energy storage and electric vehicle infrastructure, and doing so in a way that is both affordable and profit-improving for the client.
The company's subsidiaries work harmoniously to analyze clients' utilities performance. Correlate then provides recommendations for improvements based on its proprietary data.
Those solutions may encompass HVAC, mechanical, electrical and plumbing processes, and address possible solar upgrades, efficient water use, antimicrobial airflow, vehicle electrification and smart controls for any improvements.
For more information, visit the company's website at www.CorrelateInfra.com, including the following:
NOTE TO INVESTORS: The latest news and updates relating to CIPI are available in the company's newsroom at https://ibn.fm/CIPI
About InvestorWire
InvestorWire is the wire service that gives you more. From regional releases to global announcements presented in multiple languages, we offer the wire-grade dissemination products you'll need to ensure that your next press release grabs the attention of your target audience and doesn't let go. While our competitors look to nickel and dime you with hidden fees and restrictive word limits, InvestorWire keeps things transparent.
As part of its service, InvestorWire provides coverage of noteworthy announcements. To further expand visibility of achievements being made throughout a multitude of sectors, InvestorWire's syndication partners have extended the digital coverage to include individual broadcasts on financial websites and platforms visited by millions of investors daily.
For more information, please visit https://www.investorwire.com
Please see full terms of use and disclaimers on the InvestorBrandNetwork website applicable to all content provided by IBN, wherever published or re-published: http://ibn.fm/Disclaimer
InvestorWire (IW)
8033 Sunset Blvd Suite 1037-IW
Los Angeles, CA 90046
310.299.1717 Office
www.investorwire.com
[email protected]
InvestorWire is part of the InvestorBrandNetwork.