The Ecom World Conference is set to take place between June 28-29, 2021
The world's largest online ecommerce event, Ecom World will feature 15,000 attendees, 3,000 brands and over 80 expert speakers
The conference will feature 10 distinct tracks, each touching upon a specific aspect of ecommerce and featuring discourses from sector experts
Attendees will come away with a firm grasp on the key drivers underpinning the ecommerce market today
For discounted Ecom World tickets, visit https://ecomworldconference.com
The inaugural Ecom World Conference is scheduled to take place in an entirely virtual format on June 28-29, 2021. Set to be the world's largest ecommerce event, Ecom World will play host to over 15,000 attendees in addition to upwards of 3,000 brands and with more than 80 expert speakers in attendance.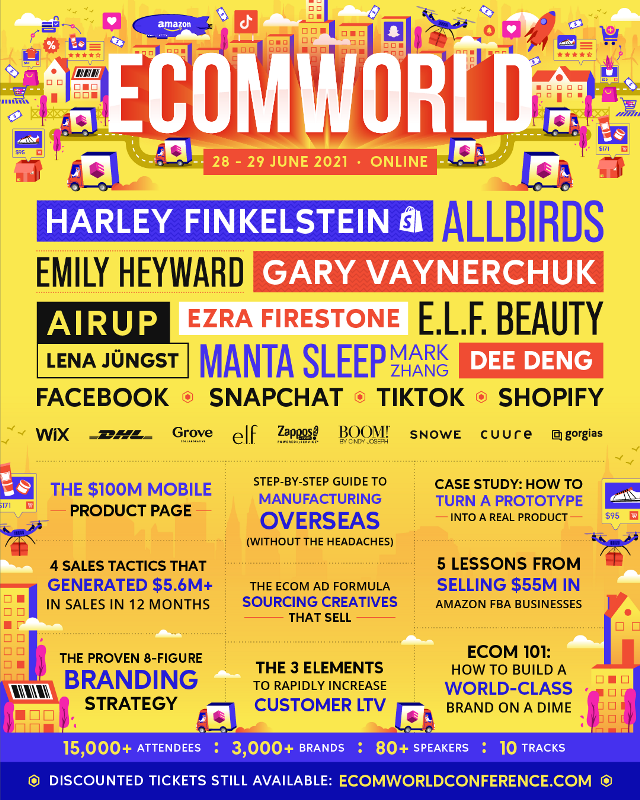 For the first time ever, the entire ecommerce world will congregate together online to share exclusive knowledge, tactics and actionable strategies on how to build, operate, and scale profitable ecommerce businesses in 2021. Featuring some of the world's most innovative founders, brightest minds and trailblazing DTC brands, the Ecom World Conference will provide attendees with some of the practical strategies and exclusive secrets used to scale and profit their individual ecommerce ventures.
The conference will feature 10 individual tracks, comprised of the following topics:
Sourcing Products
Fulfillment
Business Operations
Store Design & Optimization
Marketplaces & Social Commerce
Selling on Amazon
Brand Building
Paid Advertising
Marketing: Influencer, Email & More
The Future of Ecommerce
US consumers spent $861.12 billion online with U.S. merchants in 2020, up an incredible 44% year over year, according to the US Department of Commerce. That marks the highest annual U.S. ecommerce growth rate in at least two decades and is nearly triple 2019's 15.1% jump.
Meanwhile, online ecommerce's share of total US retail sales have also been on the rise – with ecommerce accounting for 21.3% of total U.S retail sales in 2020, up from a mere 14.3% in 2018. More importantly perhaps and despite the global pandemic, total U.S. retail sales increased by 6.9% over the past year to $4.04 trillion, with online sales amounting for 101% of all gains in retail in 2020. The exponential rise in ecommerce sales as well as its growing predominance within overall retail sales has served to underscore the importance of online sales channels, and highlights the increased relevance of the upcoming Ecom World Conference.
The event is set to feature a number of industry luminaries, including the likes of Harley Finkelstein, President of Shopify; Gary Vaynerchuk, CEO of VaynerMedia; Kyle Ranally, Vertical Insights Marketing Strategist at Facebook; and Christine Chang, Co-founder of Glow Recipe, who will share their individual growth strategies and personal experiences with conference attendees. From learning how leading DTC brands source quality products, discovering what it takes to build a stand-out brand and understanding the best methods through which to leverage various marketing channels, attendees will come away with a firm grasp on the key drivers underpinning the ecommerce market today.
For discounted Ecom World tickets, visit https://ecomworldconference.com
About InvestorWire
InvestorWire is the wire service that gives you more. From regional releases to global announcements presented in multiple languages, we offer the wire-grade dissemination products you'll need to ensure that your next press release grabs the attention of your target audience and doesn't let go. While our competitors look to nickel and dime you with hidden fees and restrictive word limits, InvestorWire keeps things transparent. We offer UNLIMITED Words on all domestic releases. While other wire services may provide a basic review of your release, InvestorWire helps you put your best foot forward with complimentary Press Release Enhancement.
With our competitors, the work is done the second your release crosses the wire. Not with InvestorWire. We include follow-up coverage of every release by leveraging the ever-expanding audiences of the 50+ brands that make up the InvestorBrandNetwork.
Get more out of your next press release with InvestorWire. It's unlike anything you've seen before.
For more information, please visit https://www.InvestorWire.com
Please see full terms of use and disclaimers on the InvestorBrandNetwork website applicable to all content provided by IBN, wherever published or re-published: http://ibn.fm/Disclaimer
InvestorWire (IW)
8033 Sunset Blvd Suite 1037-IW
Los Angeles, CA 90046
310.299.1717 Office
www.InvestorWire.com
Editor@InvestorWire.com
InvestorWire is part of the InvestorBrandNetwork.