PepsiCo (NASDAQ: PEP) was featured in a recent analysis report that speculated regarding its interest in Celsius Holdings Inc. (NASDAQ: CELH). "We weren't surprised to learn that Pepsi took a stake in healthy energy drink company Celsius Holdings, nor would we be surprised if Pepsi eventually acquires them. After all, the classic beverage maker is presumably looking at a lot of the same consumer trends that we are. Across seemingly every food & drink category, unhealthy is out and healthy is in," reads the report, written by LikeFolio Founder Andy Swan. The piece further questions whether the trends that attracted Pepsi to Celsius have staying power, as well as factors driving demands for energy drinks. "Before employers wised up to activity tracking technology, taking a midday nap was a viable option for sleepy at-home pandemic workers. Then offices reopened, forcing people to act (or at least look) the part. Taking a George-Constanza-Esque nap under the desk was a novel thought, but the logistics were tough. Less insulated from what Zoom hides, the global workforce has since accepted the reality that alertness is back in style. Alright, time to stock up on the caffeine! Kidding aside, the return of the office (or hybrid) worker is a big reason why energy drinks are in greater demand these days. Not that it ever went away. Sipping on a coffee, soda or energy drink throughout the day was part of our daily routines well before COVID. But with in-person meetings and business travel ramping (not to mention post-work social events), the need for a boost is real. Longer work hours + more social engagements = greater demand for extra energy. As the trends below indicate, Americans are indeed on the move again!"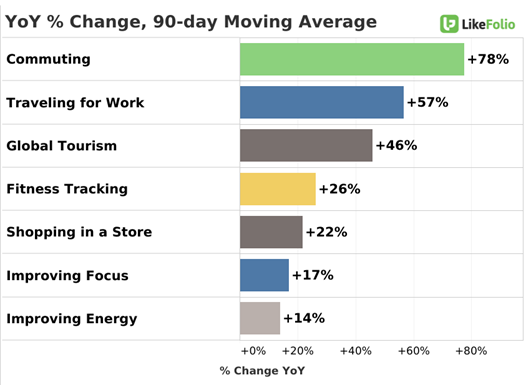 About PepsiCo Inc.
PepsiCo products are enjoyed by consumers more than one billion times a day in more than 200 countries and territories around the world. PepsiCo generated more than $79 billion in net revenue in 2021, driven by a complementary beverage and convenient foods portfolio that includes Lay's, Doritos, Cheetos, Gatorade, Pepsi-Cola, Mountain Dew, Quaker, and SodaStream. PepsiCo's product portfolio includes a wide range of enjoyable foods and beverages, including many iconic brands that generate more than $1 billion each in estimated annual retail sales. Guiding PepsiCo is its vision to be the global leader in beverages and convenient foods by winning with PepsiCo Positive ("pep+"). pep+ is PepsiCo's strategic end-to-end transformation that puts sustainability and human capital at the center of how it will create value and growth by operating within planetary boundaries and inspiring positive change for planet and people. For more information, visit www.PepsiCo.com.
About InvestorWire
InvestorWire is the wire service that gives you more. From regional releases to global announcements presented in multiple languages, we offer the wire-grade dissemination products you'll need to ensure that your next press release grabs the attention of your target audience and doesn't let go. While our competitors look to nickel and dime you with hidden fees and restrictive word limits, InvestorWire keeps things transparent.
As part of its service, InvestorWire provides coverage of noteworthy announcements. To further expand visibility of achievements being made throughout a multitude of sectors, InvestorWire's syndication partners have extended the digital coverage to include individual broadcasts on financial websites and platforms visited by millions of investors daily.
For more information, please visit https://www.investorwire.com
Please see full terms of use and disclaimers on the InvestorBrandNetwork website applicable to all content provided by IBN, wherever published or re-published: http://ibn.fm/Disclaimer
InvestorWire (IW)
8033 Sunset Blvd Suite 1037-IW
Los Angeles, CA 90046
310.299.1717 Office
www.investorwire.com
[email protected]
InvestorWire is part of the InvestorBrandNetwork.