Match Group (NASDAQ: MTCH) was featured in a recent analysis report that discussed performance of its growing-in-popularity brand, Hinge(R). "While Match Group's (MTCH) flagship Tinder brand is still the top dating app in the United States, it's losing steam… fast. The good news? It's losing to another of Match Group's brands, Hinge. Hinge is preferred by users for a couple of reasons. On Hinge, users are restricted to eight 'likes' per day, limiting the number of matches they can initiate. This gives match recipients more confidence that the other user's interest is legitimate, rather than a fishing-with-dynamite type of match-gathering scheme that is prolific among Tinder users," reads the report, written by LikeFolio Founder Andy Swan. "Hinge is also stealing market share from Bumble (NASDAQ: BMBL), a dating app that requires the woman to make the first move. While this unique approach was effective at attracting initial users, it looks like the novelty is beginning to wear off for some of its user base. Hinge is not only beating Tinder and Bumble in terms of user growth, but also consumer happiness… a fantastic combination. It's no wonder Match Group is beginning to refer to Hinge as its 'breakout star' among its portfolio of dating apps."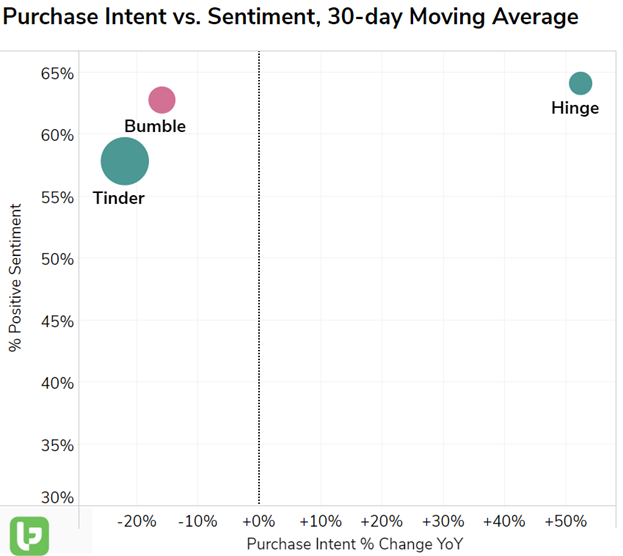 About Match Group Inc.
Match Group, through its portfolio companies, is a leading provider of digital technologies designed to help people make meaningful connections. Its global portfolio of brands includes Tinder(R), Match(R), Hinge(R), Meetic(R), OkCupid(R), Pairs(TM), PlentyOfFish(R), OurTime(R), Azar(R), Hakuna Live(TM), and more, each built to increase Match Group users' likelihood of connecting with others. Through its trusted brands, Match Group provides tailored services to meet the varying preferences of its users. Match Group services are available in over 40 languages to its users all over the world.
About InvestorWire
InvestorWire is the wire service that gives you more. From regional releases to global announcements presented in multiple languages, we offer the wire-grade dissemination products you'll need to ensure that your next press release grabs the attention of your target audience and doesn't let go. While our competitors look to nickel and dime you with hidden fees and restrictive word limits, InvestorWire keeps things transparent.
As part of its service, InvestorWire provides coverage of noteworthy announcements. To further expand visibility of achievements being made throughout a multitude of sectors, InvestorWire's syndication partners have extended the digital coverage to include individual broadcasts on financial websites and platforms visited by millions of investors daily.
For more information, please visit https://www.investorwire.com
Please see full terms of use and disclaimers on the InvestorBrandNetwork website applicable to all content provided by IBN, wherever published or re-published: http://ibn.fm/Disclaimer
InvestorWire (IW)
8033 Sunset Blvd Suite 1037-IW
Los Angeles, CA 90046
310.299.1717 Office
www.investorwire.com
[email protected]
InvestorWire is part of the InvestorBrandNetwork.