Yum! Brands (NYSE: YUM) was featured in a recent analysis report that discussed the conglomerate's innovative and resilient approach to the fast food industry. Yum! Brands includes the iconic Kentucky Fried Chicken ("KFC"), Taco Bell and Pizza Hut. "Last quarter, the company's digital sales surged by almost +30% in the quarter, making up nearly half of all orders. Web visits for KFC and Taco Bell have increased by double digits YoY… Taco Bell won a legal battle for the phrase 'Taco Tuesday' over the small chain who owned the trademark, Taco John's. Taco Bell's battle to 'liberate' Taco Tuesday for the masses generated more publicity for the brand than its own Mexican Pizza, according to company leadership. This has translated in LikeFolio data – Taco Bell mentions are +20% higher on a YoY basis," reads the report by LikeFolio Founder Andy Swan. "The company's embrace of digital sales, strategic victories in legal battles, and insights into economic trends demonstrate an innovative and resilient approach to the industry. In a world where fast food preferences ebb and flow, YUM stands strong, offering flavors that resonate with consumers across generations."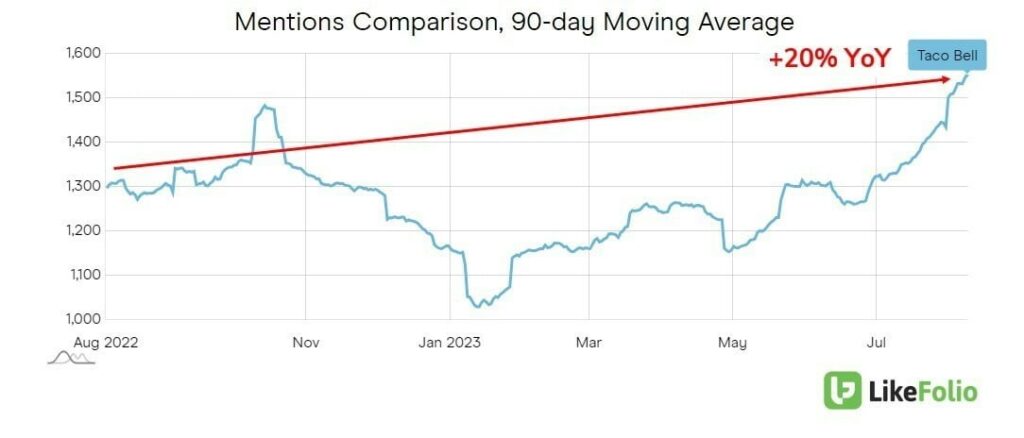 About Yum! Brands Inc.
Yum! Brands, based in Louisville, Kentucky, and its subsidiaries franchise or operate a system of over 56,000 restaurants in more than 155 countries and territories under the company's concepts – KFC, Taco Bell, Pizza Hut and the Habit Burger Grill. The company's KFC, Taco Bell and Pizza Hut brands are global leaders of the chicken, Mexican-style food and pizza categories, respectively. The Habit Burger Grill is a fast casual restaurant concept specializing in made-to-order chargrilled burgers, sandwiches and more. In 2023, the KFC, Taco Bell and Pizza Hut brands were ranked in the top five of Entrepreneur's Top Global Franchises Ranking.
About InvestorWire
InvestorWire is the wire service that gives you more. From regional releases to global announcements presented in multiple languages, we offer the wire-grade dissemination products you'll need to ensure that your next press release grabs the attention of your target audience and doesn't let go. While our competitors look to nickel and dime you with hidden fees and restrictive word limits, InvestorWire keeps things transparent.
As part of its service, InvestorWire provides coverage of noteworthy announcements. To further expand visibility of achievements being made throughout a multitude of sectors, InvestorWire's syndication partners have extended the digital coverage to include individual broadcasts on financial websites and platforms visited by millions of investors daily.
For more information, please visit https://www.InvestorWire.com
Please see full terms of use and disclaimers on the InvestorBrandNetwork website applicable to all content provided by IBN, wherever published or re-published: http://ibn.fm/Disclaimer
InvestorWire (IW)
8033 Sunset Blvd Suite 1037-IW
Los Angeles, CA 90046
310.299.1717 Office
www.InvestorWire.com
[email protected]
InvestorWire is part of the InvestorBrandNetwork