NVIDIA (NASDAQ: NVDA) was featured in a recent analysis report that discussed the company's upping of its quarterly guidance "by a cool $4,000,000,000." "That's a more than 50% increase over what was expected. The reason? 'The computer industry is going through two simultaneous transitions—accelerated computing and generative AI,' Nvidia CEO Jensen Huang said in the press release. 'Our entire data center family of products—H100, Grace CPU, Grace Hopper Superchip, NVLink, Quantum 400 InfiniBand and BlueField-3 DPU—is in production. We are significantly increasing our supply to meet surging demand for them,'" Huang was quoted in the report, written by LikeFolio Founder Andy Swan.
Swan goes on to discuss LikeFolio's bullish take on NVDA. "LikeFolio has been POUNDING THE TABLE on NVDA since it fell under $200 almost a year ago. In June of 2022, we said 'We're buying NVDA below $200/share' because 'we believe NVDA will be a $500 stock within five years.' In September 2022, we doubled down with a buy alert of NVDA under $150/share, citing exploding incoming demand in AI, self-driving, and data-center use cases. In January 2023, we TRIPLED DOWN on NVDA with a buy alert in the $160 range."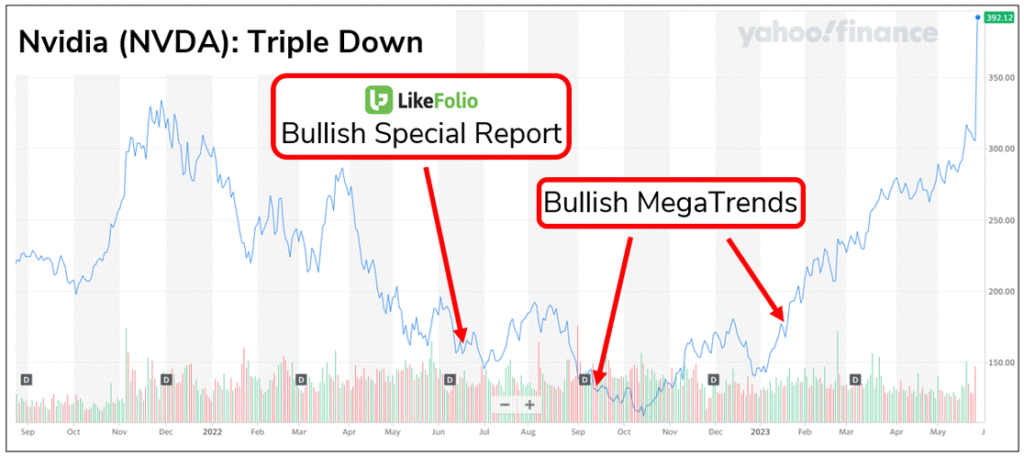 About NVIDIA Corporation
Since its founding in 1993, NVIDIA has been a pioneer in accelerated computing. The company's invention of the GPU in 1999 sparked the growth of the PC gaming market, redefined computer graphics, ignited the era of modern AI and is fueling the creation of the industrial metaverse. NVIDIA is now a full-stack computing company with data-center-scale offerings that are reshaping industry. More information at https://nvidianews.nvidia.com.
About InvestorWire
InvestorWire is the wire service that gives you more. From regional releases to global announcements presented in multiple languages, we offer the wire-grade dissemination products you'll need to ensure that your next press release grabs the attention of your target audience and doesn't let go. While our competitors look to nickel and dime you with hidden fees and restrictive word limits, InvestorWire keeps things transparent.
As part of its service, InvestorWire provides coverage of noteworthy announcements. To further expand visibility of achievements being made throughout a multitude of sectors, InvestorWire's syndication partners have extended the digital coverage to include individual broadcasts on financial websites and platforms visited by millions of investors daily.
For more information, please visit https://www.InvestorWire.com
Please see full terms of use and disclaimers on the InvestorBrandNetwork website applicable to all content provided by IBN, wherever published or re-published: http://ibn.fm/Disclaimer
InvestorWire (IW)
8033 Sunset Blvd Suite 1037-IW
Los Angeles, CA 90046
310.299.1717 Office
www.InvestorWire.com
[email protected]
InvestorWire is part of the InvestorBrandNetwork