AutoZone (NYSE: AZO), a leading retailer and distributor of automotive replacement parts and accessories, was featured in a recent analysis report that discussed its outperformance compared to peers within the auto parts sector. The report, written by LikeFolio Founder Andy Swan, reads, "AZO maintains more than 85% of overall auto parts retail mention volume and shows signs of market share expansion. Additionally, DIY auto maintenance is on track to peak high this season, currently pacing +15% higher on a year-over-year basis. On its third-quarter earnings report, AutoZone beat analyst expectations, sending the stock higher. But will continued supply chain issues eventually catch up with auto part retailers?"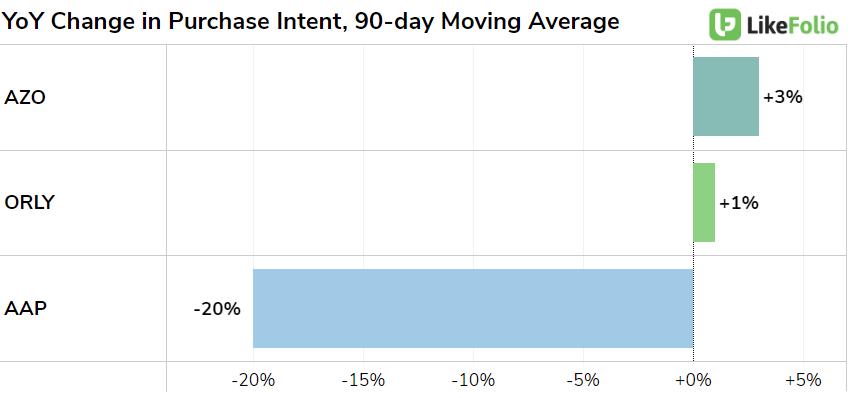 About AutoZone Inc.
AutoZone is an American retailer of aftermarket automotive parts and accessories, the largest in the United States. Founded in 1979, AutoZone has over 6,400 stores across the U.S., Mexico, Puerto Rico, Brazil and the U.S. Virgin Islands. The company is based in Memphis, Tennessee. For more information, visit https://About.AutoZone.com.
About InvestorWire
InvestorWire is the wire service that gives you more. From regional releases to global announcements presented in multiple languages, we offer the wire-grade dissemination products you'll need to ensure that your next press release grabs the attention of your target audience and doesn't let go. While our competitors look to nickel and dime you with hidden fees and restrictive word limits, InvestorWire keeps things transparent.
As part of its service, InvestorWire provides coverage of noteworthy announcements. To further expand visibility of achievements being made throughout a multitude of sectors, InvestorWire's syndication partners have extended the digital coverage to include individual broadcasts on financial websites and platforms visited by millions of investors daily.
For more information, please visit https://www.investorwire.com
Please see full terms of use and disclaimers on the InvestorBrandNetwork website applicable to all content provided by IBN, wherever published or re-published: http://ibn.fm/Disclaimer
InvestorWire (IW)
8033 Sunset Blvd Suite 1037-IW
Los Angeles, CA 90046
310.299.1717 Office
www.investorwire.com
[email protected]
InvestorWire is part of the InvestorBrandNetwork.