Amazon (NASDAQ: AMZN), an American multinational technology company focused on e-commerce, cloud computing, digital streaming and artificial intelligence, was featured in a recent analysis report. The piece, written by LikeFolio Founder Andy Swan, discusses the fact that Amazon's Prime Day event just had a blockbuster year even amid consumer concerns regarding inflation and food and gas prices. "Despite the economic pressure squeezing in on consumers, 2022 Prime Day activity made 2021 look like a blip on the chart," the report reads. "Mentions from consumers indicating they shopped a Prime Day deal surged +74% higher YoY. Amazon confirmed what LikeFolio data was capturing in real-time: 2022 was its 'biggest' ever, with more than 300 million items purchased."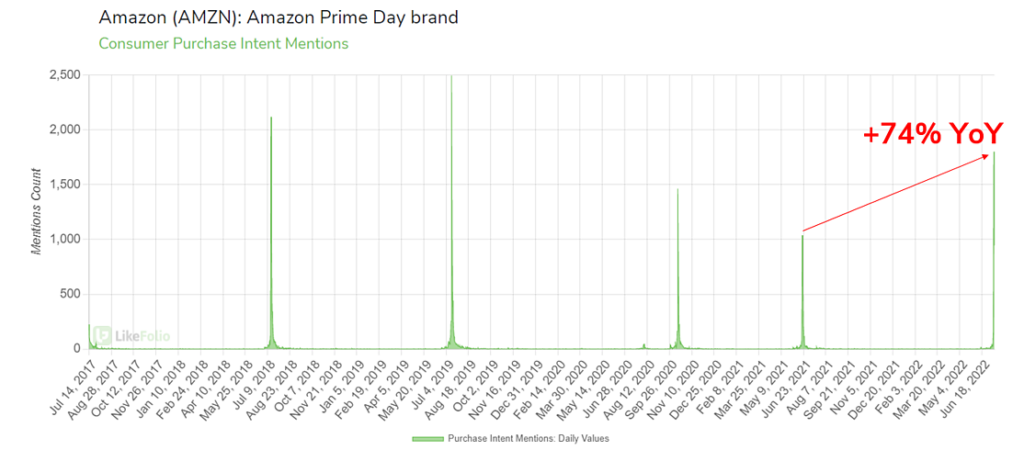 About Amazon
Amazon is guided by four principles: customer obsession rather than competitor focus, passion for invention, commitment to operational excellence, and long-term thinking. Customer reviews, 1-Click shopping, personalized recommendations, Prime, Fulfillment by Amazon, AWS, Kindle Direct Publishing, Kindle, Fire tablets, Fire TV, Amazon Echo, and Alexa are some of the products and services pioneered by Amazon. For more information, visit www.Amazon.com.
About InvestorWire
InvestorWire is the wire service that gives you more. From regional releases to global announcements presented in multiple languages, we offer the wire-grade dissemination products you'll need to ensure that your next press release grabs the attention of your target audience and doesn't let go. While our competitors look to nickel and dime you with hidden fees and restrictive word limits, InvestorWire keeps things transparent.
As part of its service, InvestorWire provides coverage of noteworthy announcements. To further expand visibility of achievements being made throughout a multitude of sectors, InvestorWire's syndication partners have extended the digital coverage to include individual broadcasts on financial websites and platforms visited by millions of investors daily.
For more information, please visit https://www.investorwire.com
Please see full terms of use and disclaimers on the InvestorBrandNetwork website applicable to all content provided by IBN, wherever published or re-published: http://ibn.fm/Disclaimer
InvestorWire (IW)
8033 Sunset Blvd Suite 1037-IW
Los Angeles, CA 90046
310.299.1717 Office
www.investorwire.com
[email protected]
InvestorWire is part of the InvestorBrandNetwork.